Rodger Hosking
V.P. and Co-Founder
Pentek, Inc.
Rodger H. Hosking is vice-president and co-founder of Pentek, Inc. where he is responsible for new product definition, technology development and strategic alliances. With over 30 years in the electronics industry, he has authored hundreds of articles and has delivered thousands of technical presentations focused on radar, communications, software radio and digital signal processing. Rodger holds patents in frequency synthesis and spectrum analysis techniques, and a BS degree in Physics from Allegheny College and BSEE and MSEE degrees from Columbia University in New York.

Mark Littlefield
Vertical Product Manager Defense
Kontron America, Inc.
Mark Littlefield is a vertical product manager for the defense business line for Kontron. He has more than 25 years of experience in embedded computing, where he has held a range of technical and professional roles supporting defense, medical, and commercial applications. Littlefield holds bachelor's and master's degrees in control systems engineering from the University of West Florida, where he wrote his thesis on a neural net approach to image processing.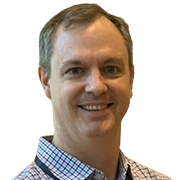 Jay Grandin
VP of Product Development
Annapolis Micro Systems
Jay Grandin is VP of Product Development at Annapolis Micro Systems. He has worked at Annapolis for over 20 years, steadily taking on more engineering responsibility throughout his tenure. Jay is deeply experienced in modular open systems architectures, with regular contributions to SOSA™ and VITA standards development. He holds a BSEE from Brown University.

Ken Grob
Director of Embedded Computing Architectures
Elma Electronic
Ken Grob is Director of Embedded Computing Architectures for Elma Electronic and is responsible for driving the company's integrated solutions. He is a regular contributor to both SOSA and VITA standards development. He holds a BSEE from Drexel University and has been in the embedded computing open architectures industry since 1985.