If you are not currently subscribed to the TIGER VLE, click here to access the registration page.


Want to know more about the grassroots TIGER Initiative and the VLE? Click here to access more information.


Committed to transforming health through IT? Join HIMSS or renew today!
For a 30-minute demonstration of the TIGER VLE, click on the paw print below.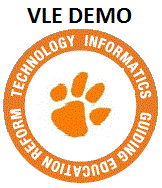 © Copyright 2018 INXPO, Inc. All rights reserved.