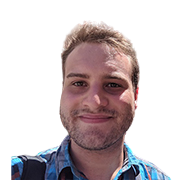 Lucas Fryzek
Field Application Engineer
CoreAVI
Lucas Fryzek has been a software developer with CoreAVI for 5 years and has recently transitioned over to the role of Field Application Engineer (FAE). Lucas has extensive hands-on experience in developing embedded software systems deployable in DO-178C safety critical environments and has worked in tandem with many of CoreAVI's largest leading customers to deliver safety critical solutions, including those specializing in the division of graphics workloads across multiple CPU cores. Lucas' experience with OpenGL SC and Vulkan APIs allow him to provide expert technical support and guidance both to CoreAVI's customers and internal team.

Nina Tucker
VP
Twin Oaks Computing
Nina Tucker, VP of Engineering, Twin Oaks Computing
Nina is the co-founder of Twin Oaks Computing, and has the current responsibility for creating and managing customer and partner relationships for Twin Oaks Computing. Her responsibility is to assure ongoing beneficial relationships with potential and existing customers and partners. This includes management and oversight of the University Program, Partner Program, and Training and Education Programs. Nina has a strong passion for both engineering and education. Nina was born in South Florida and grew up with local small business owners. She started her career with G.E. Aerospace (now Lockheed Martin) in Valley Forge, PA as an entry level software engineer. Over the next fifteen years, Nina worked on a number of programs developing and maintaining a variety of large and complex software systems, in a various technical roles, from system administrator, to senior software engineer, to software engineering manager. Nina co-founded Twin Oaks Computing in 2005, and has personally worked and held responsibility for all roles of the company during its growth since inception. Education: BS, Computer Science, Pennsylvania State University MS, Computer Science, University of Denver

David Beal
Director Product Management
Lynx Software Technologies
David Beal, Director of Product Management, Lynx Software Technologies
David Beal has been in embedded software for over 20 years, previously working at Xilinx and Wind River, as well as early startups which focused on hypervisors and embedded Linux solutions.